Kentucky Derby and Unique Gifts!
What does the Kentucky Derby and Karma Baskets and Gifts have in common? Absolutely nothing! ♥ But, that isn't going to stop me from writing about it!
Well, I do have a reason. The Kentucky Derby is a time honored tradition with a majority of homes in America. It's hyped up for days before, and on race day. It is an all day event for both the media and for many avid partiers!
The history of the event goes back to 1872 when the grandson of Clark, of Lewis and Clark had taken a trip to England..... Blah,blah, blah, blah! I could go into more detail, (a lot more detail), but Google it if you want to know all the history! ;)
The big thing is this: We have partnered up with PALS (Providing Autism Links & Supports (PALS)) to raise money for their cause. Re-read last sentence for cause. ;)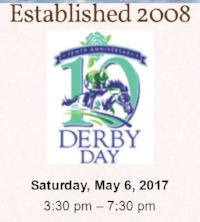 I am donating 3 beautiful baskets to be gifted at their fundraiser, "The Derby Days" in Orlando. This is a big event, and I am so proud to be part of it!
We are gifting the following baskets:
Heart Chakra Energy Basket. Obvious Chakra Choice.
Colour Energy Aromatherapy. One of my favorites.
EV Gifts "Zen Refresh". (EV Gifts are cool candles, soaps, bath body scrubs, created be adults with Autism. Not on my site yet, but I have their wonderful products and will be uploading soon!)
Can't wait to go to this event! It's for an exciting cause, and it's a first for Karma Baskets and Gifts!
Love "Gifting Positive Energy!".
XOXO,
Team Positive Energy
p.s., Enter code "Autism" before the end of race day, and get 15% off any gift on our site! ♥♥♥